Mirror Sliding Wardrobe Doors
Glass & Mirror Sliding Doors
Mirror Sliding Wardrobe Doors
Our Glass or mirror sliding wardrobe doors are made in Darwin and give renovations and new homes a fresh look at an affordable price. Children's rooms look great with white deco glass panels incorporated into the glass doors. The white glass can take whiteboard markers, sticky tape and Blu-Tac, so are ideal for kids' homework and general creativity. These doors are also available in 9mm melamine panels using a colour of your choice and can be co-ordinated or contrasted with existing joinery and décor.
Secret Mirror Sliding Door
We have come up with a clever wardrobe idea for people who want a sliding mirror door that appears only when they need it.
The secret mirror provides a sliding mirror door to use for dressing and tucks away easily and safely inside your wardrobe when you are done.
We developed a secret mirror that is a hidden sliding door, on its own track, in your wardrobe.  Your wardrobe panel doors slide back and your hidden, dress mirror panel, slides out from behind.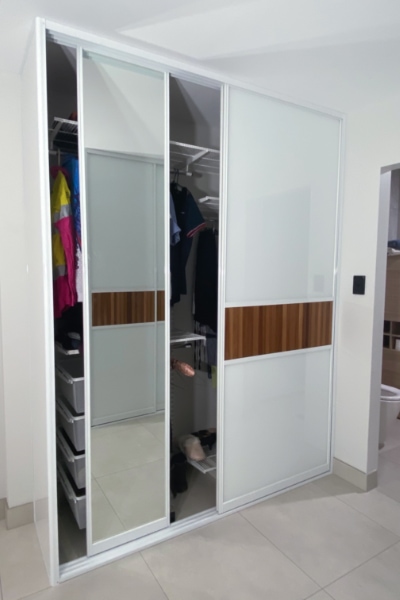 Glass or Mirror Sliding Doors with Custom Printing
Digital artwork on glass or mirror sliding doors looks stunning and allows our customers to create unique designs. This might be a favourite tree, botanical design, even pictures of their children.  Any design can be digitised and carried through the home to subtly stitch the overall interior design together.
Closet Sliding Doors with Dress Mirror 
We designed our closet sliding door with a dressing mirror in 2003. Plenty of clients wanted to have a full-length mirror in their bedroom without resorting to full mirror wardrobes or plain panel sliding doors, so we combined them. The mirror insert panel is fabricated into one or two of the sliding wardrobe doors. We can team it up with white deco glass panels or incorporate other materials that pick up the room's décor. It's a fresh and funky without the designer price tag.