Sliding Cupboard Doors for Kitchens & Lounge Rooms.
A cupboard situated between your kitchens & lounge gives you additional and convenient storage that services your kitchen, lounge, and dining. It can house Linen, kids' games, kitchen over-flow and a myriad of flotsam that accumulates in our lives.
Sliding doors are a clever option for this area for several reasons
Sliding doors will not take up valuable floor space when you access your storage, unlike hinged doors.
There is a large choice of materials and unlimited design options.
Sliding doors give you the ability to work the design into your existing décor.
Some designs will mask the fact that there is a cupboard behind them giving the look of a feature wall.
Form Function NT have a comprehensive range of designs you can choose from, most have been designed and developed by Carl.  We specialise in built in sliding doors and relish the opportunity to work with you on designs & materials that will suit your space.
Living Room Cupboard Door
The cupboard door in this photo is visual from the Kitchen, Hallway & Lounge Rooms.
The Sliding Doors are Floor to Ceiling, white panel and frames.  To add warmth and consitency merbau timber louvers are featured.
Kitchen & Hallway Cupboard
The open plan concept of this home means that the cupboard door is visual when travelling through the home.
The sliding doors are from our 4 panel range  to keep consistency throughout the home melamine dark timber panels were used and white frame.s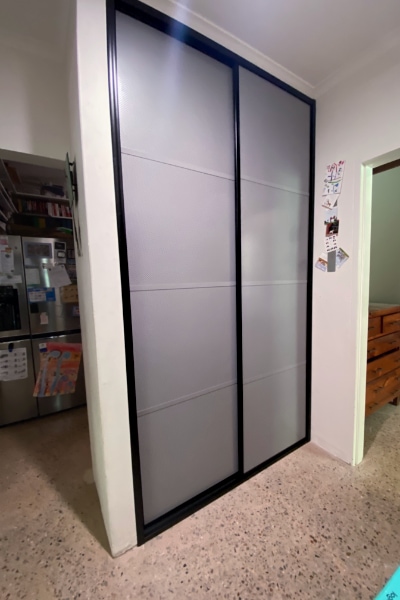 Living Room Cupboard
This cupboard door is visual from the Entrance, Hallway & Kitchen.
The Sliding Door panels are mesh powdercoated grey.  Black frames and tracks were used to provide consitency with the interior decor.
Sliding Cupboard Doors for Kitchens & Lounge Rooms
It was a pleasure working with the amazing people who own this beautifully designed rural home. 
 They were looking for a solution for a cupboard that is situated in their lounge room, also be seen from the kitchen & dining area. 
Consideration were given to the following:
The doors are visible from the main living areas of the home (kitchen, lounge & dining)
The cupboard is situated in a high traffic area that connects the bedrooms to the lounge and kitchen.
The sliding doors were to be placed over the existing purpose-built shelving.
Maximum access to the storage behind
Carl worked with the clients to achieve a result that would also further enhance the interior design of their home.
An olive-green panel was chosen which complimented the feature wall in the lounge room. (Polytec 9mm Wardrobe range. Colour –Topiary , in the new 'smooth' finish . Provides a sleek flat surface with minimal reflectance.)
Black frames were selected to work with existing features ,eg- fans and window frames.
The 4-panel design of the sliding doors added a modern feel that seamlessly blended into the interior design. (4-panel doors also allowed us to reach the 2700mm ceiling height (Topiary only comes in 2400mm sheets))
Triple track sliding system was selected so two thirds of the cupboard can be viewed and accessed.
Sliding Doors are perfect for high traffic areas as they provide easy access without taking up precious floor space.
Sliding Cupboard Doors for kitchens & lounge rooms gives you the opportunity to tie your living areas together by selecting materials and colours from both areas in your design. 
The choice of design and colours in this project successfully complimented the lounge, kitchen, and dining spaces. And of course, the painted feature wall.
If you would like to discuss your built-in cupboard designs talk to Carl.  Book a free design session either in the showroom or via zoom