Sliding Wardrobe Doors Australia
Custom Sliding Wardrobe Doors Australia
Revolutionise Your Space with Australia's
Finest Custom Sliding Wardrobe Doors
Elevate the aesthetic appeal of your home with our uniquely crafted sliding wardrobe doors, a true embodiment of bespoke elegance. We recognize your desire to infuse a touch of your personality into every corner of your home. With our sliding doors, will transform your wardrobe doors from mere utility to a reflection of your individual style.
Unveiling a New Era of Sliding Wardrobe Door Designs
As we've observed the evolving tastes of homeowners and interior designers, we've come to understand that wardrobes have moved beyond their functional role. Today, they serve as a significant style statement within your room's aesthetic.
While the charm of classic white panel or mirror sliding doors remains timeless due to their cost-efficiency and appeal to minimalist designs, there's a rising inclination towards personalisation. We've seen an upward trend of customers keen on showcasing their unique flair through the materials of their wardrobe doors.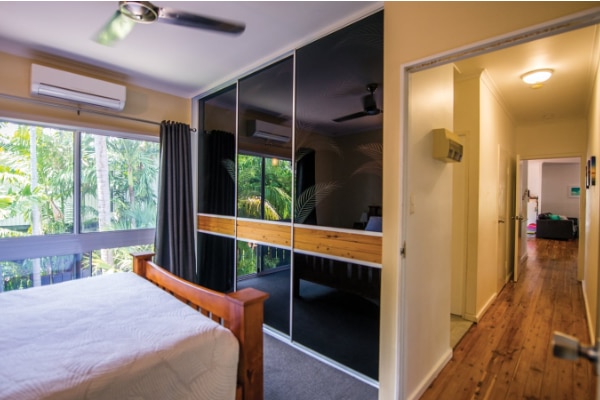 Venture Beyond Conventional: Explore Diverse Materials
The real beauty of personalisation unfolds when you dare to venture beyond conventional material choices. From fresh and reclaimed timbers to mini orb, mesh, wallpaper, and bamboo, the options are virtually limitless. 
Whether your taste leans towards rustic charm, sleek minimalism, or daring innovation, we're here to help you materialise your vision with the most suitable material choice for your sliding wardrobe doors. With our assistance, you can craft a unique design that not only fulfills your requirements but also uplifts the overall aesthetic of your space.
Revitalising Spaces with Sliding Wardrobe Doors: A Style Revolution
An artfully designed sliding wardrobe door can instantly enhance your room's appearance. It does more than save space – it serves as a striking visual element that enhances the room's atmosphere. 
Our sliding wardrobe doors are not mere doors; they're a reflection of your personal style, a display of your unique preferences. We encourage you to peruse our extensive galleries, unveiling a plethora of options that promise to harmonise seamlessly with your room's design.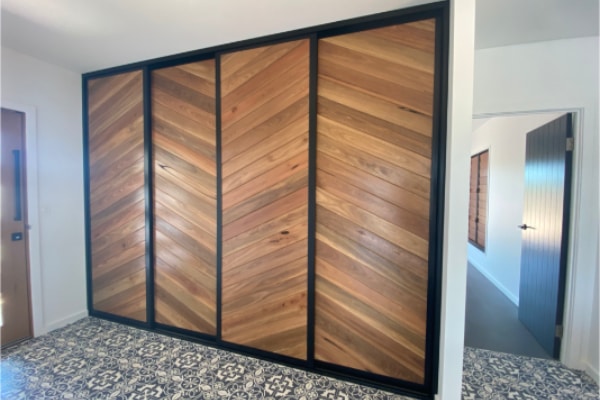 Take the First Step: Connect with Us Today
We're excited to help you bring your dream of the perfect sliding wardrobe doors to life. Reach out to us today to unveil the endless possibilities our team can introduce to your home.
Together, we can transform your ideas into a reality that fulfills your practical needs while simultaneously augmenting your room with stunning aesthetics.
We Work with the Best Builders & Interior Designers
Embarking on a home renovation journey, our clients sought a seamless integration of sliding doors into their interior design. In their quest for innovative solutions, they turned to us for guidance. Enter Carl, our design expert, who presented a brilliant idea: upcycling their floating timber floor boards to create a stunning design feature within their sliding doors.. Get ready to be inspired as we showcase the remarkable outcome of our collaboration, proving that even the smallest details can make a monumental impact.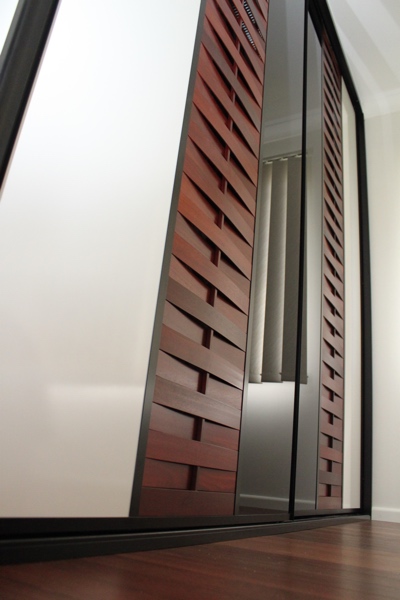 Explore our collection of the most sought-after sliding door designs. With immense pride, we can confidently proclaim that each door has been meticulously crafted and brought to life by our own talented team. Be inspired by our portfolio and envision the possibilities for your own space. Reach out to us today and let us turn your design aspirations into a tangible reality.
Grollo Home Renovation
Introducing the extraordinary Grollo Home—a distinctive and captivating residence that stands out in the Territory. This exceptional abode presents intriguing challenges. Join us on a captivating journey as we recount our seamless collaboration with visionary owners, unveiling the masterful integration of sliding doors into the essence of the interior design
Do you deliver to locations outside of your home state?
Absolutely! We proudly offer delivery across all corners of Australia.
Are there any additional shipping charges for interstate delivery?
Rest assured; our pricing is all-inclusive. It covers the sliding doors, tracks, any required jambs, packing crate, and delivery. There will be no hidden costs.
How long does it take to deliver to my state?
To ensure a seamless coordination with your home improvement schedule, we advise placing your order at least six weeks in advance.
Is assembly/installation included, or is it only the product that's shipped?
While we do not offer assembly or installation, our products are designed to be easily installed by a home handyman, cabinet maker, or builder.
What is the process if there are issues with the product upon arrival (e.g., damage during transit)?
To ensure peace of mind we recommend you look at transit insurance. 
Are there any differences in the warranty or return policy for interstate customers?
No matter where you're located in Australia, we uphold our 10-year warranty. Please note, this does not cover normal wear and tear.
Is there a local contact or service centre in my state for after-sales service?
Our sliding doors are built to last. Regular maintenance and cleaning ensure their longevity, eliminating the need for additional servicing.
Can I see your products in person before delivery?
Absolutely! Carl shares your excitement for your new sliding doors. He'll personally send you photos of your doors being made and packed.
What's the procedure for ordering custom sizes or designs from interstate?
We make ordering a breeze. Carl will guide you through the entire process of selecting your design and sizing, and he'll even liaise with your installer to ensure correct installation.
We are committed to providing a stress-free and delightful experience to our customers, regardless of where you are located.